Top 30 best paid-for iPad games apps
With the iPad, the larger screen and extra clout from Apple's A4 chip creates a gaming experience markedly superior compared to that on the iPhone, and there are plenty of fantastic titles available.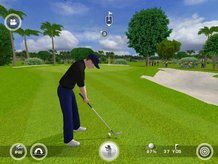 Those games marked 'universal' will work on both your iPad and iPhone. So ere are our favourite iPad games.
1. Plants vs. Zombies HD (£3.99)
PopCap's bonkers tower defence game Plants vs. Zombies HD should appeal even if you're sick of the genre. On iPad, the graphics are fantastic, and the multi-touch screen perfect for positioning your plants to battle the undead. There's also an iPad-only minigame, 'buttered popcorn', where you 'butter' multiple zombies and fire corn-cob cannons at them.
2. Flight Control HD (£2.99)
Firemint's line-drawing classic Flight Control HD brings its iPhone baggage to iPad, offering all the original airfields in big-o-vision. However, new stuff makes the game worth three quid, including improved controls and three 'HD' airfields. These feature two landing areas and are like juggling two Flight Control games at once.
3. Pinball HD (£0.59)
Gameprom cornered the iPhone pinball market with three great tables, which are compiled for the iPad release of Pinball HD. Each table now gets three viewpoints (overhead, 3D, dynamic) with optional 'camera tilt', along with a major boost in detail and performance. For the record, The Deep's futuristic, feature-packed table is our favourite.
4. Civilization Revolutions for iPad (£7.49)
This action-packed 'Civ lite' works much like it does on other handhelds, butCivilization Revolutions for iPad hugely benefits from the iPad's large screen, enabling you to rampage around a virtual world, conquering your foes. The iPad version also boasts a customisation feature, enabling you to adjust parameters and create almost limitless scenarios and game types.
5. Real Racing 2 HD (£5.99)
Firemint's Real Racing 2 bills itself as the 'ultimate racing experience for iOS', and that's what it delivers. Bar some irritating unlock mechanics, this is flawless racing, with responsive controls, great track design and dazzling graphics.
Additionally, iPad 2 owners can enjoy full HD 1080p TV-out, experiencing the game on the TV screen.
6. Labyrinth 2 HD (£4.99)
Roll a marble to the exit. It doesn't sound exciting or even good, but Labyrinth 2 HD is a surprisingly compelling iPad game. Part of the magic is in how tactile it feels—your view updates using a subtle 3D effect as you tilt your device. The rest is in the excellent course design—things start simple, but levels soon resemble an explosion in a pinball factory.
7. Strategery (£1.19, universal)
Strategery is a hugely addictive simplified Risk. Conquer countries by tapping and automated dice rolls, and be mindful of the fact that since there's no stockpiling (each country can hold a set maximum number of army units), you need to think ahead to win. Online one-on-one play is also available.
8. Zen Bound 2 (£1.79, universal)
Zen Bound for iPhone was a surprise hit, with many thousands of people infatuated with tying bits of rope around sculptures. Along with offering superior visuals and a 45-minute soundtrack, this iPad-exclusive sequel, Zen Bound 2, provides even more tactile controls, and a bunch of new levels and features, such as paint bombs.
€ 49,00
9. Geometry Wars: Touch (£0.59, universal)
Although we'd like to kick squarely in the goolies whichever idiot placed the bomb button in the middle of the screen (although updates now enable you to configure bombs to explode on a double-tap of the right-hand thumb-stick), Bizarre's dual-thumb shooter Geometry Wars: Touch for iPad is a triumph on iPad.
Including seven gameplay modes (one exclusive to iPad), the game provides ample short bursts of adrenaline-fuelled carnage for any wannabe destroyer of vector-based alien scumbags.
10. Tiger Woods PGA Tour 12 for iPad (£3.99)
The Tiger Woods series comes to the iPad for the first time and in fine style with Tiger Woods PGA Tour 12 for iPad. Although the iPad game lacks all of the courses of its console cousin, the graphics and touch-based swing mechanics work very nicely. And when you're done with the game's eight courses, there are minigames to try, including the fun 'closest to the pin'.
11. Osmos for iPad (£2.99)
If there's a game likely to convince someone to buy an iPad, it's Osmos. The simple physics-based gameplay tasks you with absorbing smaller 'motes' and avoiding larger ones that will absorb you. The environments feel alive, due to the lush visuals and ambient soundtrack; and the finely-tuned controls (including the ability to warp time) ensure that even tougher levels are a pleasure to play.
12. Mirror's Edge for iPad (£2.99)
In gameplay terms, Mirror's Edge isn't a million miles away from 59p iPhone classic Run!, tasking you with swiping your 'runner' around an environment in vaguely Parkour fashion. But whereas Run! goes for cartoon aesthetics, Mirror's Edge wraps Hollywood-style production values around its core gameplay, marrying fluid controls to an exciting, engaging futuristic landscape and dystopian storyline, thereby justifying its price tag.
13. Denki Blocks! HD (£2.99)
Rarely do puzzle games get the balance right, but Denki Blocks! HD looks great, has a smooth difficulty curve, and offers enough challenge to baffle even the brightest of iPad users. The game's mechanics are simple - swipe to move all the blocks, aiming to join those of like colour—but achieving your goal (and each level's 'master challenge') most certainly is not.
14. Scrabble (£5.99)
Aside from the odd dictionary issue, this is a successful iPad version ofScrabble. The graphics are clear, the solo game is challenging, and the app happily connects over Wi-Fi to the iPhone version.
15. Broken Sword: Director's Cut HD (£3.49)
Revolution's multi-BAFTA nominated title comes to the iPad with newly rendered graphics, along with Easter Eggs that when found unlock a Dave Gibbons comic. Broken Sword itself otherwise mirrors the classic PC original, rapidly drawing you into a globe-trotting adventure full of mystery and murder.
16. Moto X Mayhem for iPad! (£0.59)
Fans of Trials HD (or, if you're old enough, Kikstart) should lap up this side-on motocross game. The ragdoll physics in Moto X Mayhem sometimes irks, but the game's controls can be tweaked to assist you in shaving seconds off your course times.
Three islands are included in Moto X (with more available via in-app purchase), and frustration is lessened with infinite 'lives' - although each fall costs you an extra second.
17. N.O.V.A. 2 HD (£3.99)
Gameloft mashed all the Hollywood sci-fi clichés into a sticky pulp before shoving them into this action-packed first-person shooter. Forced out of retirement against your will, in N.O.V.A. 2 HD you play a (previously) retired marine, whose duty is to prevent mankind's annihilation - largely by annihilating plenty of aliens.
Having done precisely the same thing six years earlier (in the original N.O.V.A.), he's presumably pretty angry when dishing out death and destruction in the game's 12 chapters. When you're done, there are also local or online death-matches.
18. Polyhedra XL (£1.19)
Fill games are common on the iPhone, but less so on the iPad; luckily,Polyhedra XL is the best game of its type. You press to blow up shapes, with the goal of filling two-thirds of the screen. Enemies bounce around and destroy growing shapes, but you can use gravity to trap foes under shapes you've previously created.
19. Need for Speed Shift for iPad (£3.99)
Vroom! Real Racing owns the track, but Need for Speed Shift owns the streets, enabling you to drive 28 different cars in a suitably reckless manner around 18 city tracks. The handling's great, there's customisation if you want it, and you can race friends over Wi-Fi.
20. Zombie Infection HD (£2.99)
There's been yet another zombie outbreak in South America, and you've been dropped right in the middle of it. Your mission: rampage through 12 levels, blowing zombie scum to smithereens. And bear in mind: some of these guys can run! Minor control issues aside, Zombie Infection HD is a fun, exciting game - and, we admit, it made us jump a few times.
21. World of Goo HD (£2.99, universal)
It might not have started life on the iPad, but World of Goo is most definitely at home there. The touch interface makes the game - all about building structures with goo balls, to get a number of them to a pipe - all the more tactile.
But what makes it a must-have purchase is the inventiveness and attention to detail throughout, from the beautiful, surreal graphics and evocative soundtrack through to the smart level design and wry sense of humour.
22. Infinity Blade (£3.49, universal)
Powered by Unreal Engine 3 technology, Infinity Blade is a very pretty game indeed; luckily, it's also a lot of fun. Despite its RPG-style levelling-up, Infinity Blade is more an old-school block-and-parry fighting game - a little Karatekamixed with Punch-Out!! and a touch of Soul Calibur.
With its intuitive swipe-and-tap controls, the game's easy to get into, but the foes you encounter ensure it's tough to beat.
23. Forget-Me-Not (£1.19, universal)
Forget-Me-Not resembles what might happen if a 1980s arcade fell into a giant blender and the resulting soup got injected into your iPad. It mashes together bits of Pac-Man and other classics, creating something that manages to be fresh and hugely addictive. And with each level being procedurally generated, there's potentially limitless gaming on offer.
24. Space Invaders Infinity Gene (£2.99, universal)
Although Infinity Gene starts life as Taito's ancient coin-op, it soon gets bored and 'evolves', taking you on a journey through vertically scrolling shoot 'em ups, until you're immersed in bullet hell. The graphics are stylish, the controls are tight, and the pumping soundtrack (best taken in through headphones) urges you on.
25. Helsing's Fire HD (£1.79)
The App Store's full of puzzle-game clones, so it's great the odd new idea still appears. Helsing's Fire uses a clever light-based mechanic, having you obliterate demons using a torch and coloured potions.
Timed endless modes and procedurally generated levels add longevity, and comic-book-style cut-scenes add plenty of character, nudging Helsing's Fire ahead of most puzzle games.
26. Minotron: 2112 (£1.19, universal)
Jeff Minter's been creating arcade games for three decades, and Minotronproves he's not lost his touch. Essentially an iOS update of the classicLlamatron (itself loosely based on Robotron, one of the best videogames ever created), Minotron is a furious, relentless twin-stick shooter with an oddball Pythonesque sense of humour.
27. Dungeon Hunter 2 HD (£3.99)
Dungeon Hunter 2 is another in a long line of hack-and-slash action RPGs, but it stands out from the crowd with its mix of old-school dungeon crawling and modern production values. Quests are enjoyable, combat is well-designed and entertaining, and the story is engaging and satisfying.
28. Reckless Racing HD (£2.99)
Top-down racers have been around for decades, but few have looked as great as Reckless Racing does on an iPad. As you skid around courses in your beaten up car, buildings rise from the screen while chasms descend into murky gloom. With eight tracks, perfect physics and a fun Crazy Taxi-style minigame, Reckless Racing is anything but a reckless MP3 Waterproof Subacqueo purchase.
29. Galaxy On Fire 2 (£5.99, universal)
Following in the footsteps of epic space adventures Elite and EVE Online,Galaxy On Fire 2 gives you a galaxy to explore. Weighty trading is punctuated by streamlined combat, and the entire game is backed by an excellent storyline. And with it costing roughly the same as Elite did back in 1984, you get a lot for your money!
30. Halcyon (£1.19)
The simplest games can often be the most insanely addictive, as Halcyon proves. The idea is simple: drag like currents together, because if any unlike ones collide, it's game over. Initially, this is simple, but soon you're tasked with juggling dozens of currents inexorably moving towards each other.
All this takes place alongside a beautiful generative soundtrack, augmented by sounds based on your actions, making Halcyon part engrossing audio toy, part unmissable game.
Related Articles
50 free apps for new iPad 2 and new iPad 2012